Barrettine's Technical Training Day - A full house at Farnborough!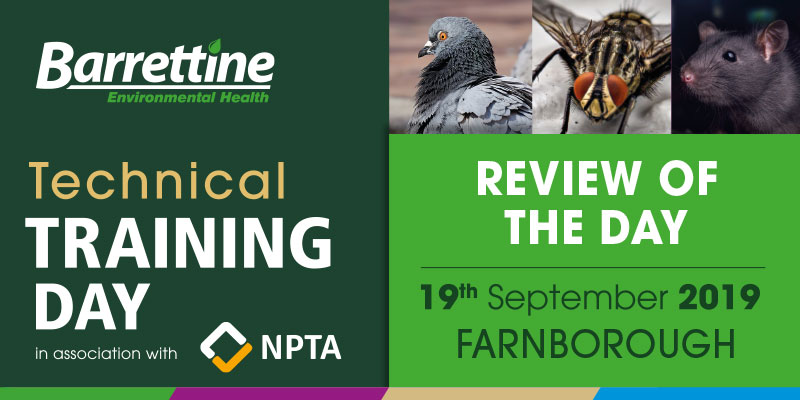 Related news:
Free rodenticide resistance testing from CRRU
28th September 2020
28th July 2020
Date:
1st October 2019
Categories:
Research, Industry News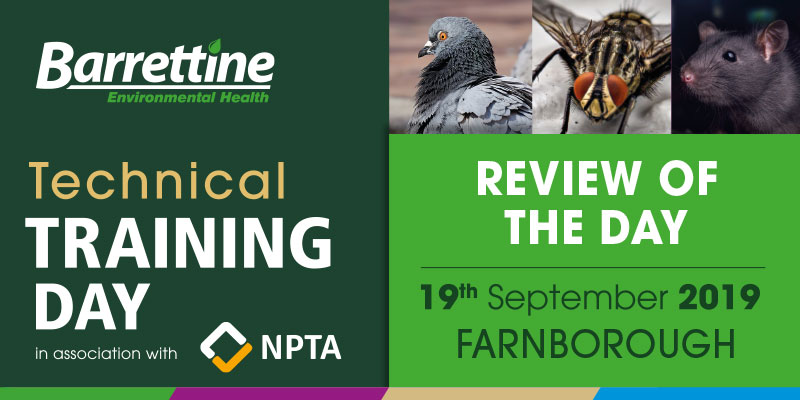 Barrettine's Technical Training Day - A full house at Farnborough!

Rodent control & baiting techniques within the uk
Oliver Madge started the session with a very informative summary of Rodent Control and Baiting Techniques within the UK, an introduction into surveying, the importance of habitat management and to read all product labels – this has become very important due to the amount of changes over the last couple of years. Rodents have increased in size over time and this has to be taken into account when baiting.
Rodent control – management: signs of activity – evidence – survey – assess – target species-monitor- record.

Climate change & the impact on UK Pest Control
Clive Boase gave a valuable insight in to climate change with the average temperature in the UK rising since 1960 and the detrimental effect this has had. Steve King only this week (Chief Scientist) said he is scared at how quickly climate change is moving.
Agricultural CO2 emissions and the greenhouse effect all play a part on the planet's Global warming and projected to have a number of effects on the oceans. Ongoing effects include rising sea levels due to thermal expansion with the melting of glaciers and ice sheets.
The effect on global warming and climate change has seen insects such as wasps survive the winter and nests doubling in size. Insects that are not native to the UK are also suddenly appearing – Asian & European Hornets, Mosquitos in the London Underground and even outbreaks of Termites in certain areas!
Asbestos Awareness
John Hope explained the importance of ensuring that whilst working you are aware of Asbestos and the detrimental effects it can have on your health. Pest controllers are often unaware whilst climbing in lofts, drilling through cavity walls and old buildings that very often they are dealing or coming into contact with Asbestos. The properties of Asbestos and its effects on health included the increased risk of developing lung cancer for asbestos workers who smoke.
Types, uses and likely occurrence of Asbestos and Asbestos materials in buildings.
General procedures to deal with in an emergency, eg: an uncontrolled release of Asbestos dust into the workplace.
How to avoid the risk of exposure to Asbestos.

New Products
Josh Randall presented Barrettine's new Venom Fresh Bait showcasing the qualities and effectiveness of Brodifacoum, it's active and the small amount of bait usage needed to control rodents compared to other active ingredients. He also gave an introduction to Barrettine's Pest Technicians Guide which contains detailed information to assist in the daily routine of a Professional Pest Control Operator: A 'how to' guide covering topics of insect and rodent information and indentification, equipment calibration, non-chemical insect control measures, pesticide application and product safety, dealing with waste: Triple rinsing as well as detailed information on LD50.
A complete and essential guide for the professional.
WORKSHOPS:
Richard Mosley – Bayer:
Introduced new product K-Othrine Partix and the new approach to protecting absorbent surfaces.
Dawn Bolton – Agrisense:
New B & G Sprayer
Pestpro Power 4 Battery Powered Backpack
Introducing B&G's new 4-gallon battery powered backpack featuring the same precision B&G sprayer you know and trust available now without the need to pump.
Oliver Madge – Barrettine:
Oliver demonstrated all various methods of Pestproofing and the importance of proofing to combat insect & rodent infestations.
THE TRAINING DAY RECEIVED VERY GOOD FEEDBACK:
"..WELL ORGANISED AND INFORMATIVE"
"...VERY WELL PRESENTED"
"...VERY KNOWLEDGABLE "
" ...INFORMATIVE, GOOD NETWORKING AND SHARED INFORMATION AND IDEAS "
".. INFORMATIVE AND CONSTRUCTIVE USE OF MY TIME "
"...GOOD SUBJECTS"