Impact on Rodenticide Labels & Legislation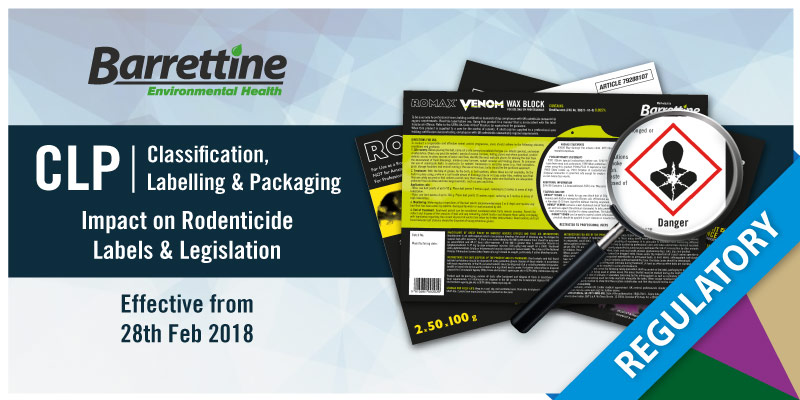 Related news:
Free rodenticide resistance testing from CRRU
28th September 2020
28th July 2020
Date:
26th January 2018
Categories:
Industry News, Barrettine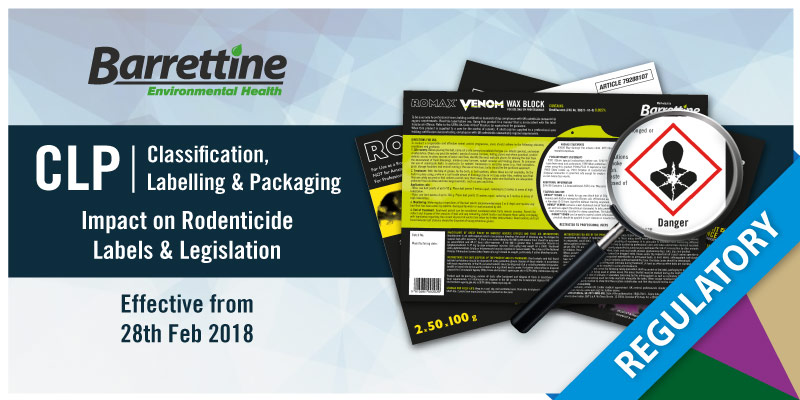 Implementation of the CLP regulation No. 1272/2008:
Impact on rodenticide labels and legislation effective from the 28th February 2018.
We have communicated previously the Classification, Labelling and Packaging (CLP) changes applicable to the product labels affecting anticoagulant rodenticides within the supply chain. The major change within this legislation is the active substances that contain above 0.003 % of active substance that will now require a reprotoxicity pictogram and hazard statement.
Some product labels already have this pictogram and hazard statement on the label in preparation for the 28th February deadline. However, several products within the supply chain do not have this hazard statement. The new classification of rodenticides above a concentration of 0.003 % will have the pictogram and hazard statement shown in Table 1.
From the 1st March 2018, all anticoagulant rodenticides falling into this category (> 0.0029 %) will need to be CLP compliant and labelled accordingly.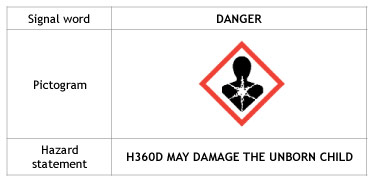 The impact on this new classification is:
Products authorised for amateur use containing 0.005 % of active ingredient will not be allowed on the market after the 28th February 2018
Products authorised for amateur use for use on both rats and mice can only be supplied to end users in the following maximum pack sizes:
Blocks 300 g (dose size typically 20 g per block)
Pasta Sachets 150 g (dose size typically 15 g per sachet)
Grain/cereal based 150 g (dose size typically 50 g per sachet)
Barrettine have been aware of these pending regulatory changes and we have several anticoagulant products available to customers preferring not to use products that carry this reprotoxic hazard warning. Please contact the Barrettine sales office for additional product information on amateur rodenticides below the reprotoxic threshold of 0.003 % active ingredient.
Products containing 0.005 % of the anticoagulant active ingredient authorised for use in the Professional market will need to be relabelled to be compliant with the CLP regulations.
On the 1st March 2018, this CLP rodenticide legislation will be effective. The responsibility for ensuring that product phase out deadline is respected and the correct labels are available, falls on all distributors in the supply chain making these products available into the market.
Additionally, the updates to the product classification mean that both the product labels and the Safety Data Sheets (SDS) of these products will change, thereby changing the risk profile and risk assessments for the use of the product. Should you need a copy of the product label or SDS, our website product pages are the first to be updated with labels and SDS's, and should be the first point of call, alternatively please call our sales office (01179 600060).
Any stock carried over for onward sale that does not have the updated CLP labels can be over labelled. Please contact Barrettine if you need additional labels.
In addition to the CLP regulation, anticoagulant rodenticides are undergoing a Re-authorisation process and this process should be complete around February/ March. Unfortunately we do forecast further text label and usage changes from this re-authorisation process and as soon as the products are re-authorised, the product labels will once again need to be updated. A further update on this will follow in due course.
Should you need more information, please contact the Barrettine Environmental Health Sales Office on 01179 672222 or beh@barrettine.co.uk