BASIS Point of Sale Audit FAQ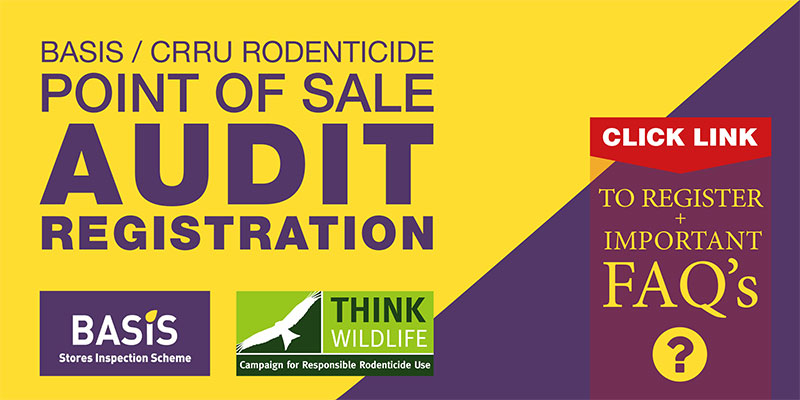 Related news:
Free rodenticide resistance testing from CRRU
28th September 2020
28th July 2020
Date:
26th October 2017
Categories:
Industry News, Barrettine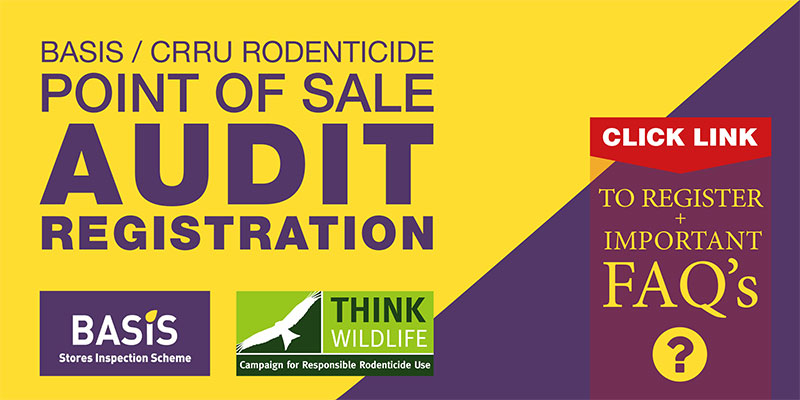 BASIS Point of Sale Audit FAQ's
BASIS and CRRU (Campaign for Responsible Rodenticide Use) UK are now inviting suppliers of professional use rodenticides to register their depots for the new UK Rodenticide Stewardship Regime Point-of-Sale audit process.


Registration must be completed by 31
st
of December 2017
in order to be allowed to continue to sell professional use rodenticides.


For more information and to register your depot please click on the web address below:
1) Question: Regarding the BASIS Point of Sale registration for suppliers selling rodenticides, if suppliers already have BASIS registration- do existing BASIS registered suppliers need to also register into this process?

Answer: Yes they still need to register for the point of sale audit as this is not a part of the audit that BASIS routinely inspects.
2) Question: A supplier of rodenticides has a head office with smaller outlets selling rodenticides, does each outlet need to register as part of the company or does the registered address have the audit and pay one fee?
Answer: Every point of sale needs to be registered for the point of sale audit. If rodenticide sales are made from every outlet then all outlets have to be registered for the audit.
3) Question: Would an existing BASIS registered company also need to pay the registration fee of £176?
Answer: No, if companies are already on the BASIS Stores Scheme, companies only pay an additional £30 which will be invoiced to their annual BASIS invoice. The only companies who need to pay the £176 are those who are not already on the stores scheme.
4) Question: Are these fees a one – off upfront fee or an annual fee?
Answer: They are an annual fee with no hidden extras. The BASIS Point of Sale scheme will work exactly as the Pesticide Stores Inspection and the RAMPS small stores Inspection Schemes.
5) Question: Clarity on the fees- a company 'XYZ Trading Ltd.' with head office and 6 depots will have to pay 6 x £ 176 registration + 6 x £30 audit.
Answer: The fee of £ 176 is a registration fee for each NEW outlet. There is no £30 fee for these outlets. The £ 30 is for existing BASIS stores who already pay a registration fee to be inspected for pesticide storage so will just pay the £30 as an additional fee on top of what they pay now.